You can sort your form based on the following:
Date Created
Date Edited
Last Entry
Form Title
For sorting forms, click on the following button.

The following options will be displayed: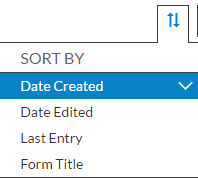 Select the desired sort criteria by left-clicking any of the four. Forms will be sorted based on the selected criteria.