When collecting, storing, processing or transmitting credit card data, you must follow the Payment Card Industry Data Security Standard or simply, PCI DSS.
Vault is a PCI-certified solution for collecting, transmitting, and storing credit card information online. It's an enterprise-grade solution that includes a support team that has been trained to handle your data and constantly monitor critical systems.
Interested with Vault? Just fill-up this form right here to request a Vault trial.
What to expect after Vault is enabled on your account?
PCI compliance is not only about how securely stored and transferred data is, but also how secure is the access to that data. This is why truly PCI compliant services require strong passwords that are changed on a periodic basis as well as the use of Multi Factor Authentication (MFA) to access the service.
Once Vault is enabled on your account, you will be required to set up a new password and set up MFA to ensure increased security for both you and your form users.
How Vault works
Creating your Vault Form
There are 3 ways to go about this.
1. Add the credit card form field to the form of your choice.
​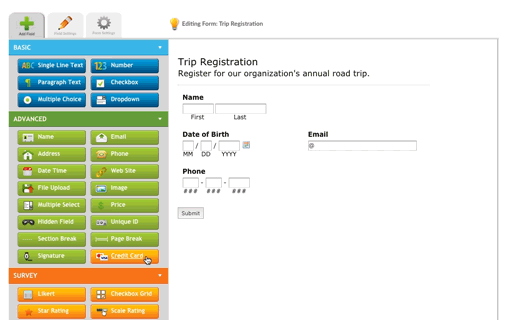 2. Duplicate your existing forms then add the credit card field.
⚠️Don't delete the number or text field that you used as your credit card field before first. This will cause you to lose previously gathered data.
3. Use the template copy of this credit card authorization form which is automatically added to your account once Vault is enabled on it.
Retrieve the credit card information
Once you've created your Vault form, try submitting the form then retrieve the credit card information on the Data Manager.